Plan du bateau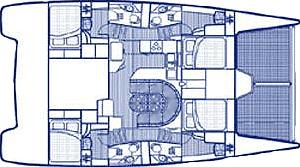 Description :
This superb air-conditioned catamaran comes from the designers Robertson & Caine and was previously named Cruising World's
The open plan galley is set out in the bridge deck and comes well equipped with a microwave oven, Force 10 four burner stove, mechanical refrigeration system providing excellent cooling to the freezer box.
The 12V refrigerator box is separate to minimize the opening of the freezer. There are ample work surfaces allowing for uncluttered food preparation.
The main saloon is kitted out with an AM/FM cassette and CD player, TV and VCR. A large folding dining table with a u-shaped settee provides a comfortable seating arrangment. Above decks, the wide transom and aft deck offer easy access to the huge cockpit.
There is ample space under the shade of a full bimini to seat all guests. Convenient access to the water is provided from the aft deck. The rig geometry for this yacht allows for ease of handing without compromising performance.

Tarifs :
$ 4495 / semaine Du 10 juillet au 31 oct.
$ 5295 / semaine Du 08 mai au 9 juillet & Du 1 nov au 17 dec.
$ 5995 / semaine Du 5 au 30 jan.
$ 6395 / semaine Du 18 dec. au 4 jan. & Du 31 janv. au 7 mai
Spécifications :
Capacité : 8 personnes
4 Cabines
Longueur : 44' 8
Moteurs : 2 x 50 hp Yanmar
Voltage : 110V/12V
Exemple d'itinéraire :
Responsable de la section nautisme : LYSIANE Tél :0690.37.57.76
© 2007 - VIRTUAL CONCEPTION - Création de sites Internet - Administration